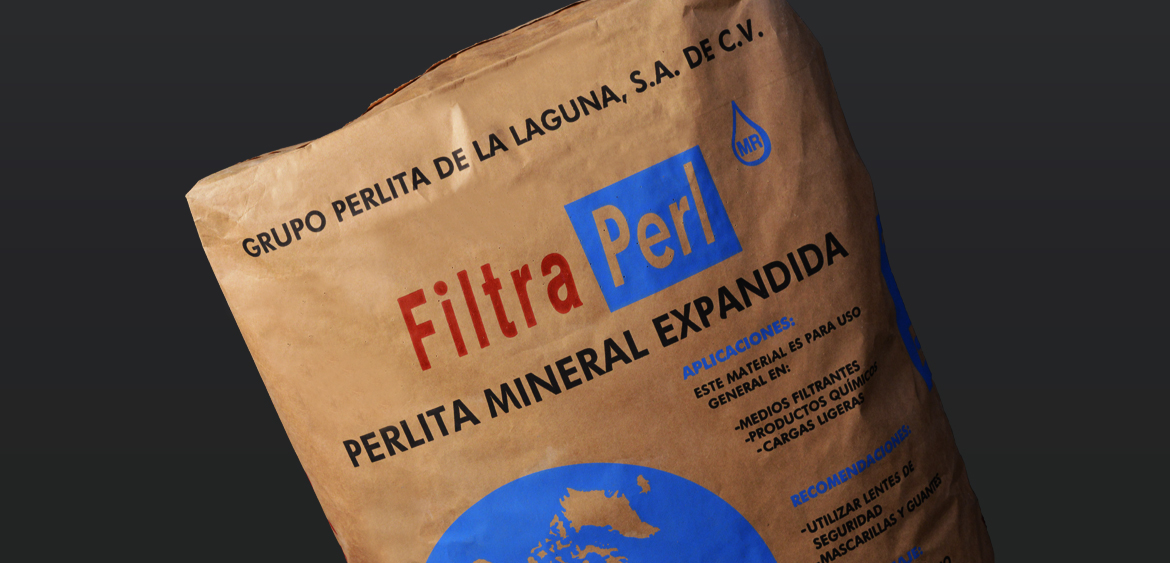 Is a unique filter-aid made from volcanic rock that is expanded and grinded to specific grades trough procedure techniques strictly controlled by Grupo Perlita.
Purity is obtained trough exclusive procedures from Grupo Perlita that eliminates sands and other unwanted materials. The obtained filter aid is an extremely pure material, inert, white /off white and lightweight that has a unique interlocking structure formed by thousands of microscopic channels. This enables optimum flow rates and brilliant clarity on the filtered substances, Filtra Perl® Filter aids provide no flavor, odor or color to the filtrates, therefore it is excellent to filter food, beverages and pharmaceuticals.
Certified product that meets Kosher specifications.

Filtra Perl ® products are obtained from production processes that are within the scope of our Quality and Safety Management System according to the requirements of ISO 9001: 2008 and ISO 22000: 2005.

Savings
Due to its low weight, it offers an advantage of 20-50 % in density, Filtra Perl® offers as twice filtration kilogram by kilogram (lbs. / Lbs.) compared to Diatomaceous Earth (DE).
Filtration Cake density of Filtra Perl® is just 140 to 200 Kg. (308 to 440 Lbs.) per cubic meter, or a range of dry density of 120 to 190 Kg. (264 to 418 Lbs.) per cubic meter. Filtra Perl® users can observe significant savings on filtration operations with a better filter aid at a lower cost.
Non-Hazardous Waste
Filtra Perl® is a non hazardous wastel and can be easily removed. Some of the filtration cakes are used for food processing they can even be used as animal feed additives. In USA this has been approved by the The Association of American Feed Control Officials(AAFCO) IFN 8-26-242.
Filtra Perl® adapts to any standard equipment. Filtra Perl® is excellent to be used on pressure leaf and vacuum filters. When used on rotary vacuum filters the cakes of Filtra Perl® show less cracking vs. other filter aids.
Simple trials can be performed to allow the grade selection and optimal quantity of Filtra Perl® that is necessary.
Less Abrasion
Grupo Perlita de la Laguna's exclusive process system removes the sand from the filter aid making Filtra Perl® as pure as possible. The less sand present means less wear of the equipment and a longer operational life of the filtration equipment.
Easy Detachment
Due to its low weight, Filtra Perl® filter aid allows an easy disposal of the cake at final filtering cycle. This improves the cleaning of the filtration equipment.
Wide Range of Grades
Filtra Perl® is produced in a wide range of grades to cover all requirements of flow and clarity rates for all products and industries. Ask Grupo Perlita de la Laguna for the grade selection.
Kosher
Filter aids from Grupo Perlita de la Laguna are sterile, inert and are widely used for Liquid filtrations on the beverage, food and pharmaceutics industries.
Improved Wash
Due to the physical characteristics of Filtra Perl®, the cake is not as mud and backwashes the filter cloth or screen in a more complete way. The cake of Filtra Perl® rinses the filter without clogging pipes and drains.